Project name: The cooling plan of Yizumi mechanical workshop
Product model: MCB08-EQ, MAU18-IQ
Yizumi Holdings Co., Ltd (abbreviated as Yizumi), is a benchmark enterprise in the field of equipment technology in China, achieving diversified development in the field of equipment manufacturing. Under global management, Yizumi's production bases are distributed both domestically and internationally, covering a total area of nearly 600,000㎡ worldwide.
The factory of Yizumi is located in Guangdong with high temperature all the year round, which can reach over 40℃ especially in summer. There are heat sources such as welding in the production process. The employees' working area is obstructed by large machinery and requires a mobile air cooler with concentrated airflow. For positions with higher level of machinery, OUBER recommends using MAU18-IQ mobile air cooler with elbow for Yizumi. The airflow of this mobile air cooler can reach 18000m3/h with 50-speed regulation, 28m ultra long wind distance and 300L large water tank storage capacity, which can be used for two days after adding water once. It can effectively cool down for workers in the workshop of large machinery, and comes with movable casters that can be moved to the required working area at any time.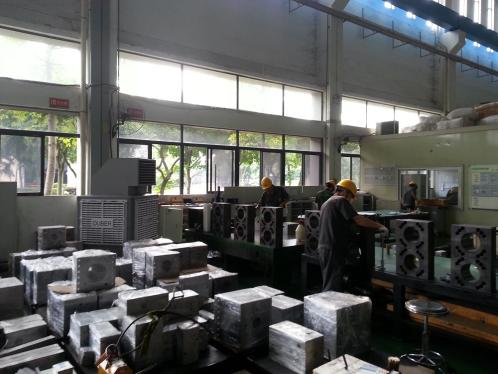 OUBER MCB08-EQ centrifugal mobile air coolers are equipped in Yizumi's accessories area. The equipped centrifugal wind wheel is in high speed, strong stability, concentrated airflow, high air pressure and small size with an air supply distance of 16m. It is easy to operate with electronic three-speed adjustment, and sturdy and durable with stainless steel side panel. OUBER cooling equipment effectively reduces the temperature of the workstation to 28-33℃, resulting in a cool and comfortable working environment in the workshop.
OUBER is a factory brand of OUBER Air Cooler & Ventilation Co., Ltd in Shunde District, Foshan City. Established in 2005, OUBER specializes in evaporative air cooler. It is located in Shunde, Foshan, Guangdong Province. The company adheres to the ISO9001 quality management system, and the products have passed domestic and international certification, such as EU CE, China CCC etc.. Adhering to good quality, we are your trustworthy ventilation and cooling partner.
Domestic inquiry: 0757-23623063
Foreign trade inquiry: Tel:+86-275-23623068
Email:aircooler@ouber.com
Please let's know your enquiry and we'll reply you within 24 hours



© OUBER Air Cooler & Ventilation Co., Ltd., 2005 ~ 2023. All rights reserved.
This website is the only official website of OUBER Air Cooler & Ventilation Co., Ltd.