Tianranju Private Home Cuisine
Project name: The cooling plan of Outdoor Tianranju Private Home Cuisine
Product model: MAB04-DQ/1
Tianranju is a romantic and fresh garden transforming from a rural homesteads, and walking inside is full of exotic charm. The dining environment here makes you feel that people and nature are integrate, go far away from the bustling urban area and experience the true joy of rural nature.
Most of the dining tables in Tianranju are placed in the outdoor garden. Coupled with the hot weather in Guangdong, the air blown out from the ordinary fans is hot, which affects customers' dining experience in Tianranju. OUBER received the cooling demand from Tianranju and conducted an on-site survey to provide a cooling plan for Tianranju. Each table is equipped with a MAB04-DQ/1 mobile air cooler.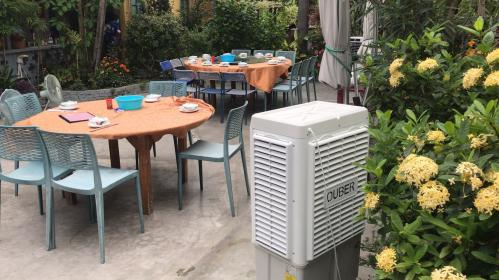 The color of this OUBER air cooler is mainly white, elegant and fashionable in small size with low energy consumption and large airflow, which does not affect the overall appearance of Tianranju. MAB04-DQ/1 mobile air cooler, with 8m air supply distance, variable frequency DC motor as well as 9-speed regulation, is safe and durable, suitable for various occasions. The air cooler is equipped with OUBER innovative AUTO function, fully automatic mode and custom 3D circulating natural wind mode. The fully automatic mode is a temperature control technology independently developed by OUBER, which can automatically adjust the wind speed based on the current temperature. Custom 3D circulating natural wind mode is based on the current wind speed as the maximum wind speed. After entering the mode, the air is supplied by gradually circulating, providing an evenly comfortable feeling for human body without being rigid.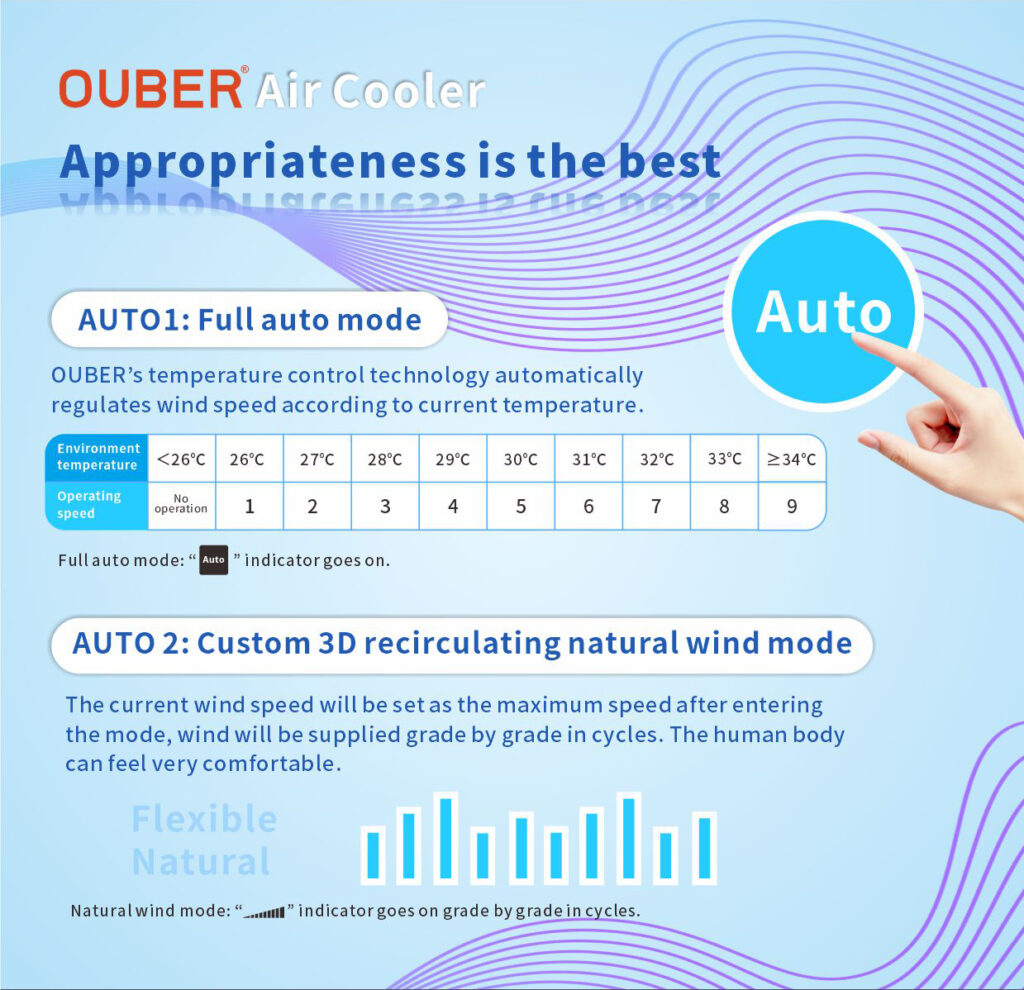 OUBER is a factory brand of OUBER Air Cooler & Ventilation Co., Ltd in Shunde District, Foshan City. Established in 2005, OUBER specializes in evaporative air cooler. It is located in Shunde, Foshan, Guangdong Province. The company adheres to the ISO9001 quality management system, and the products have passed domestic and international certification, such as EU CE, China CCC etc.. Adhering to good quality, we are your trustworthy ventilation and cooling partner.
Domestic inquiry: 0757-23623063
Foreign trade inquiry: Tel:+86-275-23623068
Email:aircooler@ouber.com
Please let's know your enquiry and we'll reply you within 24 hours



© OUBER Air Cooler & Ventilation Co., Ltd., 2005 ~ 2023. All rights reserved.
This website is the only official website of OUBER Air Cooler & Ventilation Co., Ltd.