OUBER Centrifugal Fixed Air Cooler Install Drawing
The installation specification
1.Installation location choice
a.If conditions allow, install OUBER air cooler main machine on the top of the building.
b.If outdoor air quality is good, OUBER air cooler best selected to install the shortest duct installation environment.
c.If conditions allow, OUBER air cooler hang on the wall to install, and the position should not placed material below. Do not install beside the air outlet which may produce a water vapor, odor or bad smell, like : steam the eliminator, toilet, kitchen, etc. .
d.If the cooling room is not enough the door or window (2m2 /unit),in need to install strong exhaust fan, the displacement is more than the OUBER air cooler 70% air volume.
e.To ensure that installation can support the frame structure of the whole environmental protection OUBER air cooler main machine and duct and more than two times the weight of the installation personnel, ensuring the security of the project and use;
f.The OUBER air cooler main machine must be the overall level of installation, make a prevention measures to confront powerful typhoon,mounting bracket must be bear the weight of more than 250 kg, more than 3 meters from the ground mounting bracket should add the barriers. As far as possible using tap water, the water quality must be kept clean. . The hard water should softening,drain pipe should be connected the sewer, and keep clear.
2.Point cooling
a.Duct materials used thickness over 0.6 mm hot galvanized steel sheet, double-sided plate shall be marked on the stiffeners.
b.Tuyere set above the staff positions; tuyere size selection depend on wind pressure, air volume and wind angle,with the wind plate of tuyere is convenient to adjust air flow, realize the wind tsui wind speed, air volume balance;
c.Duct air supply should use OUBER centrifugal air cooler which is high press, if need to use the ultra-low noise (below 60 decibels) environment, it should be used the silencer. Pipe bending radius (R) for duct diameter (phi) twice, to keep the air pressure, long pipeline according to the design wind speed, air volume requirements into four period of variable diameter within the duct.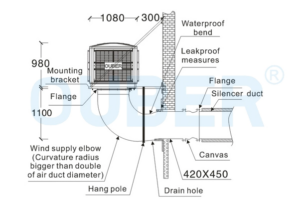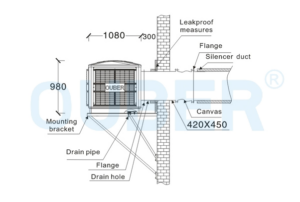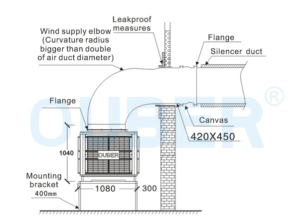 Please let's know your enquiry and we'll reply you within 24 hours



© OUBER Air Cooler & Ventilation Co., Ltd., 2005 ~ 2023. All rights reserved.
This website is the only official website of OUBER Air Cooler & Ventilation Co., Ltd.