Project name: The cooling plan of large fish aquaculture farm
Product model: FAD18-IQ
Aquaculture is an important economic source for local residents. According to the person in charge of the farm, in order to cool down, a simple sunshade cloth has been built above the farm and several large fans have been purchased, but the desired effect has not been achieved. The weather is getting hotter and hotter. If the temperature of the water is too high, it will reduce the oxygen content in the water, affect the normal growth and breeding farmed fish schools, and may delay the release time or even lead to the death of fish schools.
The farm is very spacious with unobstructed sides for ventilation and a sturdy truss at the top. OUBER provided a overall cooling plan.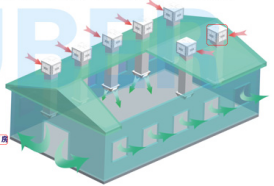 8 down discharge fixed type air coolers FAD18-IQ are used, together with eight-side air outlets, effectively delivering the cold air to the entire space in all directions, including the water surface. After the installation of evaporative air coolers, the stuffy environment of the fish pond aquaculture farm instantly cool down a lot. Standing in different corners, you can feel the cold wind, and the water surface is sparkling with the wind. After the water temperature drops, the oxygen content of the water body also increases. The entire fish pond aquaculture environment is cold and comfortable. OUBER has received the satisfaction of the employees and the owners of the fish pond farm.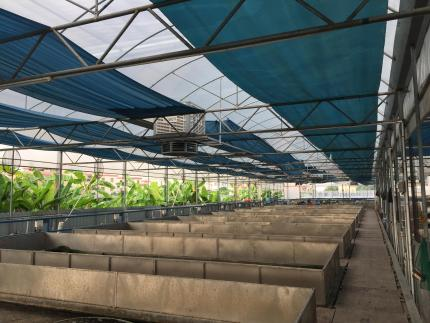 OUBER is a factory brand of OUBER Air Cooler & Ventilation Co., Ltd in Shunde District, Foshan City. Established in 2005, OUBER specializes in evaporative air cooler. It is located in Shunde, Foshan, Guangdong Province. The company adheres to the ISO9001 quality management system, and the products have passed domestic and international certification, such as EU CE, China CCC etc.. Adhering to good quality, we are your trustworthy ventilation and cooling partner.
Domestic inquiry: 0757-23623063
Foreign trade inquiry: Tel:+86-275-23623068
Email:aircooler@ouber.com
Please let's know your enquiry and we'll reply you within 24 hours



© OUBER Air Cooler & Ventilation Co., Ltd., 2005 ~ 2023. All rights reserved.
This website is the only official website of OUBER Air Cooler & Ventilation Co., Ltd.